News / Events Details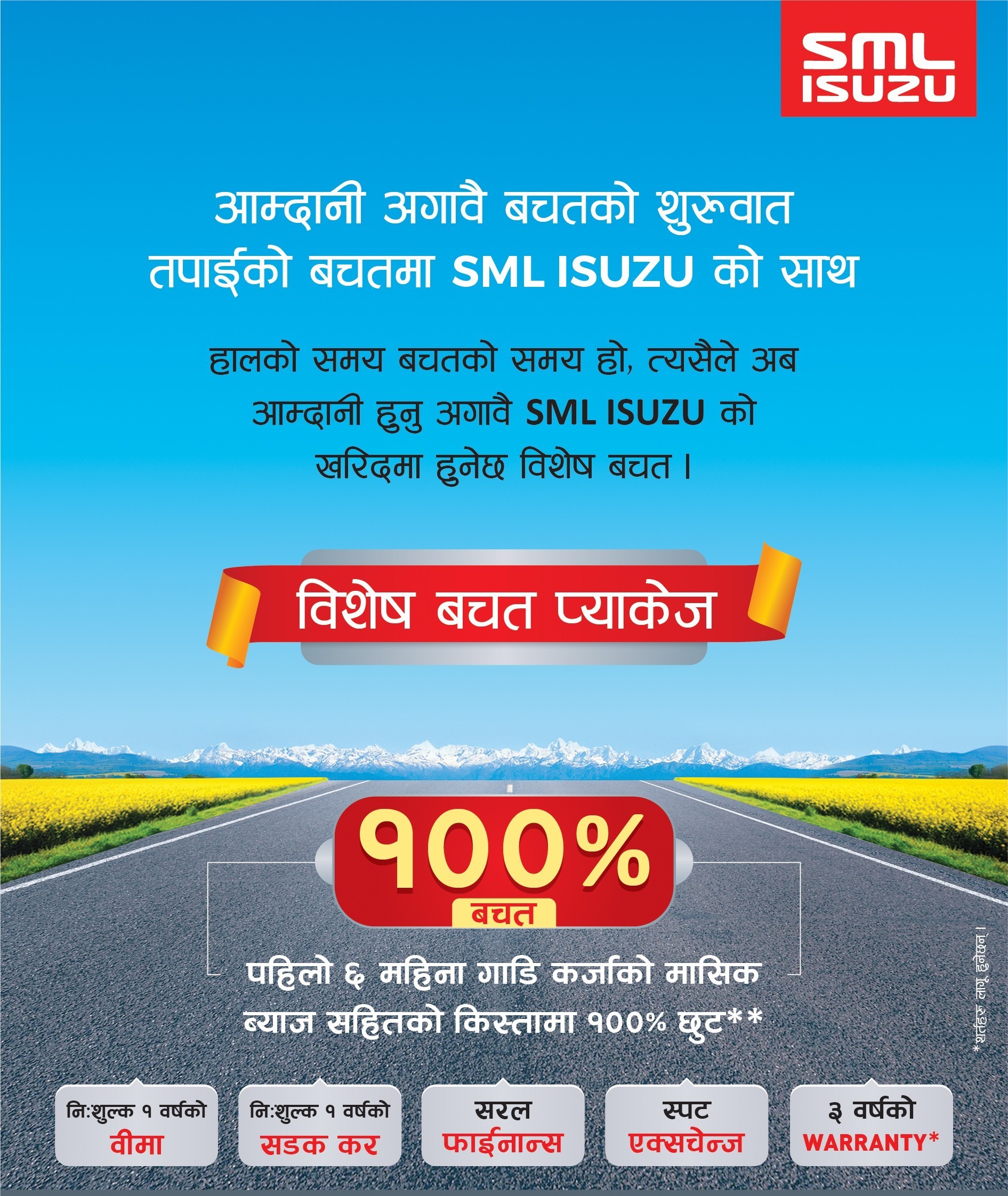 SML ISUZU Introduces new Special Saving package for its customers
As the times are difficult, today's saving will help us to secure our coming days. Understanding the needs of this difficult time to save, Laxmi Commercial Vehicles' SML ISUZU has introduced a new special saving package for its customers. With this special package customers will have the opportunity to save prior to their earning.
SML ISUZU will be offering 100% discount on the EMI Payment of first6 months of the auto loan for the commercial vehicle to the customers under this offer. The discount will be applicable only to the models financed through the banks affiliated to this package.Through this package, customers will be able to save prior to the income generated from the commercial vehicle they have purchased. Along with this, customers will also get free 1 year insurance, 1 year road tax, Easy Financing, spot exchange and 3 year warranty in this package.SML ISUZU is committed to providing 100% services to its customers.
Laxmi Commercial Vehicles Pvt. Ltd. has alreadyintroduced different models of School buses, Commercial / Private Buses, Trucks and Tippers which is already accepted and preferred by customers and is best for Nepalese road conditions. The vehicle line up consists of S7 series Buses, Standard Buses, Executive LX Coaches( AC Buses), eco MAX – Mini Buses, Samrat& Super series - Trucks & Tippers and Sartaj 4WD.
Laxmi Group is a well-established Manufacturing and Trading House with various companies under its name. In order to create a distinct identity in the automobile sector, it started the Automotive Division several years ago and Laxmi Commercial Vehicles Pvt. Ltd. falls under this division.
SML ISUZU is a joint venture between Japanese multi-national Sumitomo Corporation and Isuzu Motors. It has over 33 Years of experience in producing Light & Medium commercial vehicles to meet the customer needs. SML ISUZU aims at breaking new ground not only in terms of product and production technology, but also in building a new culture and value system in the organization, which enables it to move forward with confidence into the era of competitive markets.